The 2018 Micato Hot List
March 1, 2018
What travel destinations are hot in 2018? Some might say that's a matter of opinion.
And it is. Ours.
With a touch of immodesty we don't mind pointing out that our opinion is pretty informed after decades of operating luxury African safaris and amazing India journeys. During that time we've seen lots of lodgings, attractions and experiences come and go… sometimes with sadness, sometimes not.
And, quite simply, we can tell the difference between the things that are hopelessly trendy and those that, deservedly, will be around for a little while.
So here now is Micato's look at what's ultra-hot right now, what's about to get smoking hot, and what's been quietly hot all along as well as highly unusual. These are just our opinions, but we're sticking to them.
And by the way, our Africa and India specialists can arrange any or all of these experiences for you…
Ultra-Hot Right Now
Ol Jogi Ranch. Laikipia, Kenya
What: A private retreat in the Kenyan bush that you can have all to yourself if you like.
Why It's Hot: You can have the 58,000 acres of wildlife conservancy all to yourself, too, amid 300 or so rangers protecting myriad endangered species from 65 rhinos to 5,000 reticulated giraffe and 15% of the world's remaining Grevy's zebra population.
****
The Silo. Cape Town, South Africa
What: A 28-room hotel sitting atop Cape Town's Museum of Contemporary Art Africa (MOCAA).
Why It's Hot: A brilliant amalgam of old and new, the Silo is a reimagining of a complex of old grain elevators — creatively refashioned by the famous London-based Heatherwick Studio — with enviable views of buzzing Victoria and Alfred Waterfront.
****
Helicopter Safaris
What: Helicopter flightseeing in East or South Africa.
Why It's Hot: Adrenaline-rush that you can't quite get any other way, whether buzzing fantastical flocks of flaming pink flamingos at Kenya's Lake Bogoria, delving into South Africa's Blyde River Canyon, or doing a fly-by of Mt. Everest.
****
Alila Fort Bishangarh, Jaipur
What: A decade-long restoration and renovation of a fort turned hotel came to fruition in July 2017.
Why It's Hot: A luxe hotel perched atop a granite hill is unique as is the surrounding active village, which is virtually untouched by tourism.
****
Narendra Bhawan. Bikaner, Rajasthan.
What: A heritage property in Rajasthan that honours the late Maharaja Narendra Singh.
Why It's Hot: Luxe but casual, palatial but quirky, flamboyant yet tasteful, the hotel defies description at every turn and is making an indelible impression on its guests.
****
About to Be Super-Hot
What: A set of ten stand-alone rooms built to resemble the real shipwrecks one finds along the coast.
Why It's Hot: There's plenty of the remote and unusual to go around in the African wilderness but nothing quite like this set-up, from where you can spy lions, elephants, baboons, and other wildlife that call the Skeleton Coast home.
****
Singita Kwitonda Lodge, Rwanda
What: A lodge opening summer 2019 in Rwanda's Volcanoes National Park.
Why It's Hot: Rwanda and the park have long been popular for gorilla tracking but have been rather short on places to stay. Singita joins the fray with an eight-suite and one villa property with easy access to the silverback gorillas and otherworldly views of the surrounding volcanoes.
****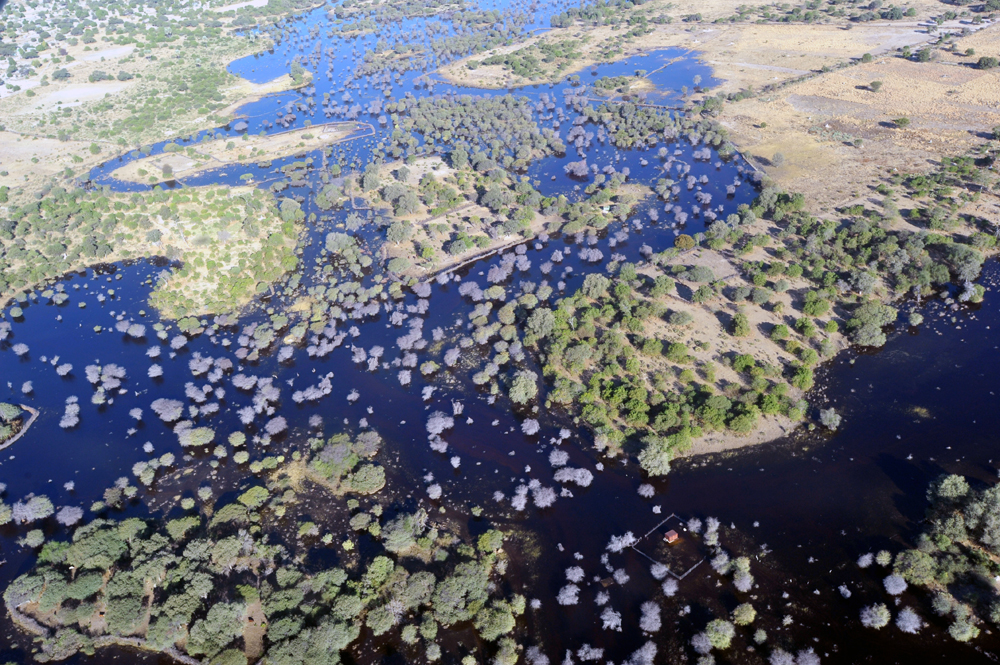 Hot air ballooning, Botswana
What: See the wildlife-rich waterways of the Okavango Delta from the air.
Why It's Hot: Witnessing the action on Botswana's storied floodplains has long been possible by helicopter, but hot-air ballooning is a relatively new way to safari in Africa, and the serenity and quiet of a balloon gondola lends itself perfectly to the calm of the Delta.
****
Taj Exotica Resort & Spa, Andaman Islands, India
What: A 30-acre, 75-villa beach property that has just opened on one of India's lesser-travelled islands.
Why It's Hot: Not just another barefoot chic hideaway, you can expect butler service and modern amenities, way above-average dining and holistic spa treatments amongst paradisaical reefs and mangroves.
****
The Ultimate Travelling Camp, Hampi
What: A travelling camp that recently set down in Hampi, a 14th century UNESCO World Heritage Site.
Why It's Hot: Like most responsible camping entities The Ultimate Traveling Camp (TUTC) has a policy of leaving no carbon footprints. And Hampi is no garden-variety campsite. It was the capital of the 14th Century Vijayanagar Empire and present day is home to miles and miles of ruins of the South India's last great Hindu Kingdom.
****
Hot and Unusual
Jabali Ridge Lodge, Ruaha
What: A rocky hill in Tanzania's largest national park is the canvas for eight stand-alone suites that look remarkably like eagles' nests.
Why It's Hot: Come on, look at these things. Not just a magnet for romantics, but a highly-practical perch from which to spy elephant, leopard, lion, buffalo and other denizens that track along the Mwagusi River.
****
Nay Palad Bird Nest, Kenya
What: Kenya darling Segera Retreat recently added the very quirky, very nesty Nay Palad Bird Nest.
Why It's Hot: Imagine just before sunset being led up a lantern-lit tower and reaching a very large open-air nest with luxe linen-covered beds replete with hot-water bottles. A real rarity and something even the most jaded customer will consider worthy of putting on Instagram.
****
The Highlands Ngorongoro, Tanzania
What: High-end tented camp meets dormant volcano in Tanzania.
Why It's Hot: Oh-so-so-beautiful contemporary tent interiors that couldn't have better views of the beguiling Ngorongoro Conservation Area, where elephant, buffalo and leopard roam and where you too can ply Maasai trails to see this coveted corner of East Africa.
****
The Rainforest Eco Lodge, Sinharaja Rain Forest, Sri Lanka
What: Rainforest chalets that actually live up to the name chalet.
Why It's Hot: The lodge has been around for a while but its approach never gets old. The chalets, fashioned from recycled shipping containers and perched on stilts, are tastefully and pleasantly done in bamboo and you'll feel like a bit like you're on a private scientific expedition in the Sinharaja portion of thjis estate, which is a UNESCO Biosphere Reserve.
****
Fossil Hunting with the Leakeys
What: Micato's longstanding relationship with the world-famous Leakeys means guests can explore the Turkana Basin's storied dig sites with a member of this first family of paleoanthropology.
Why It's Hot: How many people have the chance to live the life of a modern-day Indiana Jones in the most exciting setting possible?
****
Golfing the Extreme 19th Hole, South Africa
What: You, at the Legend Golf & Safari Resort, transported to the top of a mountain in South Africa, angling to shoot a hole in one from nearly 1,200 feet above the green.
Why It's Hot: The most gonzo of all gonzo experiences for golf aficianados has undeniable bragging rights attached to it, even if you don't make the shot (which you likely won't). But oh, the scenery.
And remember…. if any or all of these experiences pack appeal, our aforementioned Africa and India specialists will make it happen. Contact us in whatever way you like so we can get cracking on your Micato Hot List Adventure!
What's hot in 2019? Read the 2019 Micato Hot List.