Visiting East Africa vs. Southern Africa
Is one region better than the other? The answer depends on what you want to do and see.
East Africa
The great gamelands of East Africa have a firm hold on our imaginations, perhaps because so many of us have been exposed to African motifs since earliest childhood, perhaps because of something even deeper.
In The Tree Where Man Was Born, the great Peter Matthiessen wrote about the profound effect Africa can have on us:
"The wild creatures I had come to Africa to see are exhilarating in their multitudes and colors, and I imagined for a time that this glimpse of the earth's morning might account for the anticipation that I felt, the sense of origins, of innocence and mystery, like a marvelous childhood faculty restored. Perhaps it is the consciousness that here in Africa, south of the Sahara, our kind was born."
'
One of Micato's Safari Directors puts it this way:"At the airport, before the flights home, it's common to see tears in people's eyes. They feel so deeply touched by Africa. Many of them say they feel as if they've finally come home."
Whatever the source of their allure, the gamelands are dramatically, heart-stirringly unique, the greatest display of star-quality wildlife on planet Earth. The most famous of East Africa's wildlife kingdoms is the Serengeti-Maasai Mara Ecosystem. The size of Vermont, the Serengeti-Maasai Mara has two names because it straddles two countries. In Kenya, it's the Maasai Mara, somewhat greener and more riverine than Tanzania's Serengeti, the "warm sea of life" so beloved of travellers. Almost all of Micato's guaranteed departures, small-group Classic Safaris, and many–if not most–of our Custom-designed Safaris visit either or both the Serengeti and the Maasai Mara.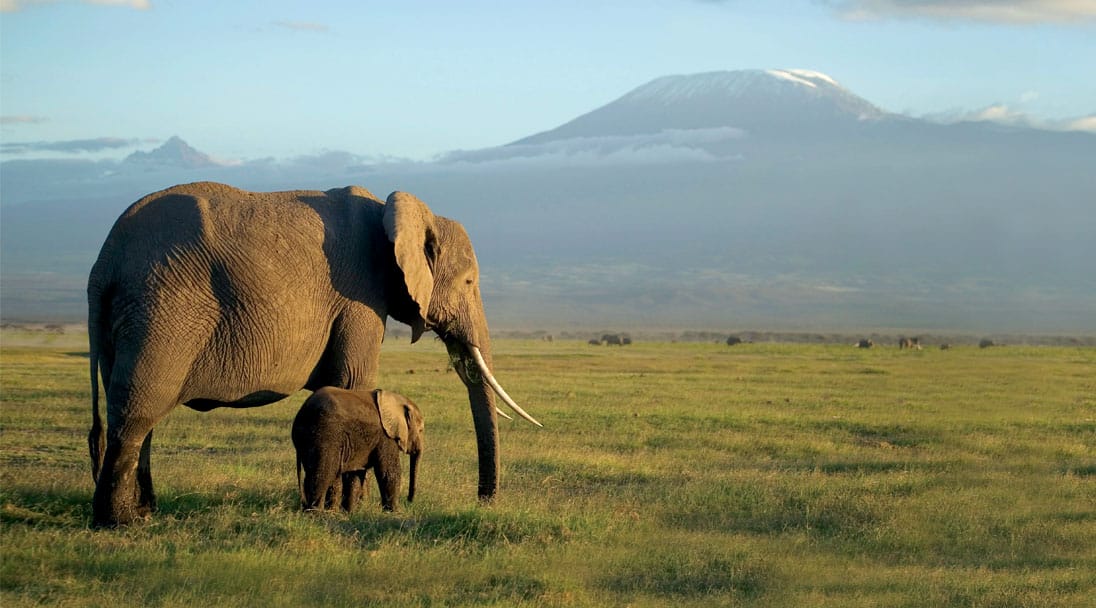 We introduce safariers to famed treasures like Amboseli and Tarangire National Parks, to the Laikipia Plateau, presided over by lordly Mount Kenya, to flamingo-thronged Lake Manyara, and to the great Lost World of the Ngorongoro Crater, one of the most amazing places imaginable. Proudly dedicated to displaying Africa's best–you aren't named the world's #1 Best Safari Operator an unprecedented nine times by Travel+Leisure if you swerve from your commitments–we carry our unstinting commitment to excellence to all our East African destinations, staying in intelligently luxurious camps and lodges tucked away on lush river banks or set high on rocky escarpments overlooking the golden infinity of the African plain. Every Micato safari, Custom, Classic or Private Classic is escorted from beginning to end by a highly credentialed Safari Director. In short, it's in Micato's very genetic code to celebrate East Africa in all its exhilarating majesty.
Southern Africa
As befits a continent that takes up almost a quarter of the planet's land surface, Africa exhibits great and fascinating diversities, a full palette of "incongruities and incredibilities" (to steal a phrase from Mark Twain).
That diversity is nowhere more dramatic than in South Africa, Botswana, and Namibia–the three Southern Africa countries Micato takes such pleasure in helping our travellers get to know.
South Africa's unofficial motto is A World in One Country (its official motto is Unity in Diversity) and the country's diversity is nearly planetary in scope. Cape Town is one of Earth's most dazzlingly situated cities. It's also high-spirited, modern-minded, and chock full of hip bistros and elegant hotels, all of them presided over by stupendous Table Mountain. The nearby Cape Winelands, a kind of Napa Valley with added mountains and Old Dutch-style hostelries, is a magnet for fanciers of wine, fine cuisine, and beautiful countrysides. Kruger National Park and a series of equally wildlife-rich private game reserves–such as Micato favourites Sabi Sabi and Shambala, both complete with some of the continent's loveliest and most salubrious camps and lodges–round out South Africa's diversity with classic opportunities to safari in well-conserved gamelands.
'
Botswana, commonly considered a great African success story, is one of the world's most sparsely inhabited nations, largely because so much of it consists of beautiful, but not terribly nurturing desert, notably the famously daunting Kalahari. The great, green exception to all that dry sand is one of Micato's favourite earthly places, the famed Okavango Delta, where the robust river of the same name, frustrated in its search for an outlet to the sea, seeps life-givingly into the Kalahari's sands, creating a huge wonderland of peaceful lagoons, meandering waterways, marvelously isolated luxury camps, and animals in profusion.
'
In Namibia we strike out from luxurious, magnificently designed safari camps into the vast and otherworldly deserts of the interior, marveling at the highest sand dunes on earth (the tallest could look the Empire State Building straight in the eye), making game drives in search of Namibia's superbly adapted 192 mammal species (not to mention its 250 reptile and 645 bird species). Namibia has become a poster-country for intelligent, community-involved wildlife conservation; 50% of all its wild animals live freely in its many conservancies.
'