The 2019 Micato Hot List
April 30, 2019
What's hot in 2019? Well, it probably won't come as a tremendous shock that we're championing amazing destinations and luxury experiences in Africa and India, since that's where we go and have been going for the last 50- and 30-odd years, respectively.
And there are myriad choices in that beloved continent and beguiling country, respectively, that, respectfully — see what we did there? — are not worth your time. Perhaps at one time they were, but this is why the Micato teams in Africa and India fastidiously visit and re-visit lodges, camps and hotels and experience and re-experience all the things we have our guests do. And we do this very due diligence every day.
This is all by way of saying that we've thought carefully about the 15 destinations and experiences you're about to read about on this list… The Micato Hot List, our selection of what's ultra-hot right now, what's up-and-coming, and what's both hot and highly unusual.
It also probably won't come as a tremendous shock that Micato Africa and India specialists can arrange any or all of the experiences on this list for your next trip (and likewise, can set you up with the amazing picks on last year's list).
With that, Jambo, Namaste, and congrats… you have found…
…The 2019 Micato Hot List
Enjoy!
Ultra-Hot Right Now
One&Only Nyungwe. Gisakura, Rwanda
What: An ancient tropical mountain rainforest, Nyungwe is home to a national park with some of the last remaining wild chimpanzees in Africa, as well as this swell lodge nestled within a working tea plantation.
Why It's Hot: Watching chimps eat, play, bicker and care for their young is at once an emotional and insightful experience, so even if you get to see that, you've already won… however, once you pair your chimp encounters with such al-fresco indulgences as epicurean picnics, open-air spa treatments, and tailored nature walks, you have the makings of a nowhere-else-can-I-find-this experience. Rooms are bright and spacious, with private balconies that open to the impossible lushness of Nyungwe.
****
Cheetah Plains. Sabi Sand Game Reserve, South Africa
What: Taking South African safari life to an unexpectedly posh and contemporary level, Cheetah Plains is a statement as much as it is a place, with three exclusive-use bushveld houses designed by celebrated South African architect Stefan Atoni.
Why It's Hot: It's wildlife-rich location alone makes this sharply-renovated, scrupulously curated assembly of houses ultra hot — it's within Sabi Sand and bound by both Kruger National Park and Mala Mala – but oh, these houses. Each villa, an exquisite amalgam of timber, metal, and stone, has two lounges and a dining area, temperature-controlled wine cellars and outdoor pools, and private suites with their own private deck, double rain shower, and bathtub overlooking the bush. And should you wish it — and you will — a private chef and butler will tend your every want.
****
Tintswalo at Boulders. Simon's Town, South Africa
What: A boutique villa in the Cape Town suburb of Simon's Town, overlooking Boulders Beach with unobstructed views of penguins.
Why It's Hot: We'll say it again: Penguins. The flightless waterfowl you never knew you needed to see regularly go about their daily business so nonchalantly you'd never suspect they were an "internationally famous colony of endangered African penguins." Likewise, you'd perhaps never suspect that a sleepy beachside town would have a luxurious villa – available for exclusive use – with six suites done with whimsical but exquisitely crisp nautical themes and décor. Several of Cape Towns best wineries are also not far. And did we mention the penguins?
****
Arusha Coffee Lodge, Northern Tanzania
What: The everlasting, highly-caffeinated battle between Coke and Pepsi has nothing on the eternal rivalry between Kenya and Tanzania over who grows the most singularly sublime coffee beans. Fortunately this competition is a win-win for Micato East Africa travellers, who get to sip it all and survey coffee plantations on foot or horseback during Micato Custom and Classic Departures to northern Tanzania.
Why It's Hot: Even if you're not a coffee aficionado – but let's face it, it helps if you are – you'll get a lot out of a stay at perennially hot-like-a-steaming-cup-of-joe-hot Arusha Coffee Lodge, whose comprehensive "bean to cup" estate tours are all-that-much-more pleasurable because you're on an old-fashioned island of quietude only three degrees south of the Equator. The 4,500-foot elevation here encourages floral luxuriance and gentle airs. And not incidentally, the rooms and suites are modern and lovely, with plentiful views of the lush greenery and floral luxuriance that surrounds the lodge.
About to Be Super-Hot
The Farmstead. Royal Malewane, Greater Kruger National Park, South Africa
What: Opening May 2019, the Royal Portfolio Collection's newest hideaway – which easily may be taken over as an exclusive use, private bush home — is perched perfectly high enough to admire the lush canopies of Greater Kruger National Park.
Why It's Hot: An exciting Martha Stewart-meets-steampunk vibe infuses the inspired décor here. Tin roofs and wrought iron provide a counterpoint to the traditionally farm-like light oak and gentle touches of blue and white that infuse the luxury farm suite. Guests will especially relish the many spacious bedrooms and vast deck for indulging in meals and observing wildlife: The Farmstead very deliberately has been built around a watering hole that lures thirsty zebra and antelope.
****
One&Only Gorilla's Nest. Parc National des Volcans, Rwanda
What: As if Rwanda wasn't enticing enough, here comes One&Only with their fairy dust to seriously upgrade this very well-situated lodge to its former grandeur. Opening day coming soon.
Why It's Hot: When we say this place has a good location, we mean it: Even before its renovation, the lodge's perch in the foothills of Africa's oldest national park made it an ultra-convenient launching point not just for embarking on gorilla treks but for spotting lions, elephants, and all manner of birds. Adding to the intrigue is this very well-padded nest, with its sexy mix of blonde wood and contemporary African furnishings, is not yet open. But stay tuned or, even better, book your Rwanda vacation with Micato and we'll try to get you into the nest.
****
Mara Nyika. Maasai Mara, Kenya
What: Slated to open August 2019, Mara Nyika by its own admission is "looking forward to offering guests amazing safari experiences in Kenya," and we're pretty confident they're going to deliver.
Why It's Hot: A sister camp of sorts to the well-regarded Mara Plains camp, Mara Nyika will quickly draw privacy seekers and romantics – it's fine to be one or the other or both, by the way – with its treehouse under canvas affect, eight-guest maximum, and exclusive seclusion that includes access to the 50,000 acre Naboisho Conservancy. Like many of the lodges with which Micato hopes to do business, Mara Nyika gives back to the community, using lodge revenue to help support both local Maasai families and the Mara's wildlife.
****
Elewana Lodo Springs. Laikipia Reserve, Kenya
What: Nestled in the Loisaba Conservancy — some of the wildest and most unspoiled terrain in Kenya – this new lodge will appeal to more active guests who still like to be spoiled.
Why It's Hot: With sweeping views of wilderness that seem to stretch into forever, Lodo Springs was designed with delicious privacy in mind, limiting its exclusive little neighbourhood to eight spacious tents, with floor-to-ceiling doors and windows, polished floors and minimalist but sophisticated Africana furnishings. You can channel your inner Hemingway while musing at your writing desk or lounging on your large deck. As like-minded as Micato about personalized service, Lodo Springs has assigned an Elewana Guest Ambassador to each tent, ensuring that wants and needs, unanticipated and not, are met with dispatch. Horseback rides, bush walks, mountain biking rides down dramatic escarpments, and running with Loisaba's anti-poaching dog team are among the invigorating options on offer here.
****
Mpala Jena. Zambezi National Park, Zimbabwe
What: The newest safari lodge in the Great Plains Conservation quietly awaits inside a private concession in Zambezi National Park and is within easy reach of Victoria Falls.
Why It's Hot: Cossetted by the relaxing shade of indigenous trees while gazing at the Zambezi River, you might at times forget, intentionally, that there is an affluence of wilderness and natural wonder to explore beyond your doorstep. Within your doorstep you have all the handsome and cozy trappings of a classic tented camp, immaculate hardwood and canvas, four-poster beds and leather couches, and a deck that leads to a private plunge pool.
****
Kuruba Safari Lodge, Kabini, India
What: Huts that are way more than huts, private swimming pools and idyllic boat safaris make this relative newcomer from Evolve Back an easy choice for honeymooners or vacationers aggressively trying to get away from it all.
Why It's Hot: They kind of had us at private swimming pools, because backyard kiddie pools these are not, and the aforementioned huts, blending traditional tribal Kadu karuba craftsmanship and modern furnishings, are rather large as well as lavish, with ample bedrooms, bathrooms, and dining areas. By way of motorboat you can cruise the Kabini River, ogling Nagerhole National Park and its denizens, that might include Asiatic elephants, or you, your special someone and a guide can drift through the river in a tiny buoyant coracle. The resort knows it's achieved the right vibe, noting that "the most luxurious things in the world are peace, tranquility and harmony," and well, we couldn't have said it better.
****
Sunder Nursery. Delhi, India
What: Originally a nursery that existed for selling plants, Sunder is now a 90-acre public green space that's been restored by the Aga Khan Foundation as a gorgeous Mughal-era garden, with stone pathways wending past fountains, ancient buildings, flower beds, an arboretum, and other treasures.
Why It's Hot: The buzz is that Sunder will quickly earn and – brace yourself, New Yorkers – surpass a comparison to Central Park on many levels, including its potential popularity and breathtaking flora that naturally will also draw fauna, including more than 80 species of birds and 36 species of butterflies, but who's counting? What makes Sunder even more exciting is that it's still a glorious work in progress.
Hot and Unusual
Omaanda, Zannier Reserve, Namibia
What: Angelina Jolie helped inspire this new, rustically-chic safari lodge within a private reserve.
Why It's Hot: If we didn't have you at "Angelina Jolie" then you'll likely be hooked once you check out the rustic, clay-walled thatched-roof huts with a blend of antique-y and surprisingly modern furnishings. And if you've never heard of the Zannier Reserve until now, that perhaps adds to the allure: Boutique hotelier Arnaud Zannier had a chance encounter in Cambodia with Jolie, who convinced the hotelier to set up an outpost in these Namibia savannahs that yield giraffe, zebra, pangolins, and other creatures, as well as a hospital serving abandoned species supported by the Jolie-Pitt Foundation.
****
Kayaking with Seals, Walvis Bay, Namibia
What: Within the Namibian City of Walvis Bay is a bustling sand spit, Pelican Point, where you may spot flamingos and pelicans, and, in the waters of the Atlantic you will certainly see and hear Cape Fur Seals, with whom you can commune from a kayak or larger vessel by way of a harbour cruise.
Why It's Hot: Cape Fur Seals, beyond being adorable and puppy faced, are both playful and polite, so whether you're piloting a sea kayak or in the care of a captain and crew plying you with splendid South African food and drink, you'll get very up close and personal with the seals and perhaps a bottle-nosed dolphin or two. Whether you're an animal lover or just enjoy the relaxing sounds of the ocean, this is the destination for you.
****
Skybeds, Khwai Game Reserve, Botswana
What: Skybeds decribes a place – a Natural Selection camp – as well as a way of camping, albeit very comfy, literally elevated camping in a beguiling, wildlife-rich game reserve.
Why It's Hot: Imagine combining astronomy and romance. Successfully. Not only can it be done, but it can be done in the most wow-ish of ways, in this case from a three-story platform gloriously sandwiched by a blanket of stars above and below, a waterhole that's a surefire magnet for thirsty elephants. Your platform, in addition to your mosquito-netted al-fresco bed on the top level, conveniently has a bathroom with a flush toilet, enclosed shower and private changing room on the second floor, so you'll be roughing it, while still staying comfortable.
****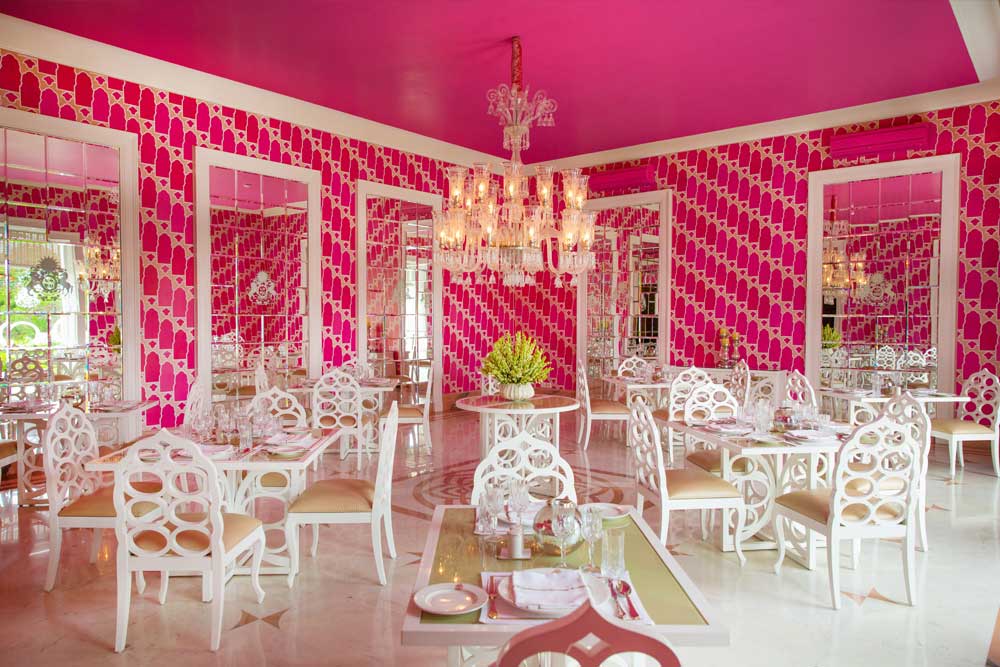 Suján RajMahal Palace, Jaipur, India
What: A former palace in the "Pink City" of Jaipur completely transformed into an uber-chic hotel in the Relais & Châteaux collection.
Why It's Hot: The RajMahal is not a newcomer but it's got an evolving, impeccable design and has very successfully upped its food and service game. Grand and, well, palatial bay windows, mirrors, chandeliers and overstuffed chairs offset an eclectic mix of rad wallpapers, fabrics and colours that somehow work exceptionally well together. This is the perfect combination of luxury and artistic design.
And remember…. if any or all of these experiences pack appeal, our aforementioned Africa and India specialists will get your there. Contact us in whatever way you like so we can get cracking on your Micato Hot List Adventure!