The Best Place for a Luxury African Safari?
March 26, 2019
Do you have questions about where, when and how to experience a true luxury African safari? We go straight to the source with Liz Wheeler, Micato's Director of Global Operations.
What is the best place for a luxury African safari?
Kenya, hands-down. Kenya is truly the cradle of the African safari experience. It's the starting part for any real luxury African safari, harking way back to Ernest Hemingway and the Happy Valley set featured in Out of Africa. Mount Kilimanjaro is close by, another adventure unto itself, and Kenya is also the birthplace of conservation –the first wildlife conservancy was created at Lewa around 100 years ago. Kenya's extraordinary blend of rustic romance provided the idyllic setting for Prince William's proposal to Kate Middleton in 2010 and, decades before, was the very spot where Princess Elizabeth became Her Majesty the Queen while on safari at the exquisite Tree Tops Lodge. From the splendid allure of the Maasai Mara whose Savannah's are so beguilingly rich in wildlife, to the elephant-speckled Samburu, to beloved Meru, forever home of Elsa the Lioness, Kenya remains a firm favourite of Micato guests to this day.
How close is close?
Proximity is everything. Choosing Kenya for your luxury African safari ensures you will see a lot in a short period of time. In fact, one of Kenya's unique advantages is that you'll experience the most diverse ecosystem in the world within one hour's travel. By helicopter you can see every possible ecosystem on one journey — from sea level at the Great Rift Valley, to the heights of Mt Kenya, to the vast, open desert of Turkana and the warm waters of unpopulated coastal beaches, all in just one country. From Kenya, it's also easy to hop on a plane and fly just one hour to Rwanda to see the mountain gorillas made famous by Dian Fossey in Gorillas in the Mist, or to Zanzibar to luxuriate in the warm waters of the Indian Ocean. And from a wildlife perspective, Kenya features boundless swaths of open wildlife migratory corridors making the game viewing unparalleled. Oh, did I mention one of my favourites, the balloon safari? When people imagine what African wilderness is like, this is it.
True magnificence, inside and out.
Any real luxury East African safari itinerary ought to include Kenya's famously sumptuous tented accommodation. Whether mobile or stationary, having that tented experience is really the essence of safari. Listening to the sound of the rain on your tent and opening the flaps onto the stunning expanse of the Maasai Mara — nothing can beat it. And yes, there are people who get nervous about their tented accommodation… right up until they step inside and see their king-sized canopy bed, hand-woven carpets and marble bath, feel the high thread count linen and meet their butler who is on call 24-7. Like at the super-luxe Star Beds at Loisaba, where dramatic covered beds on wooden raised platforms overlook a 56,000-acre wildlife conservancy. Of course, there are also some out-of-this-world non-tented accommodations, too. Ones such as the fairy-tale Elsa's Kopje, a collection of luxurious and delightful cottages built into the rock jutting above Meru National Park. For a luxury African safari, Kenya is unbeatable.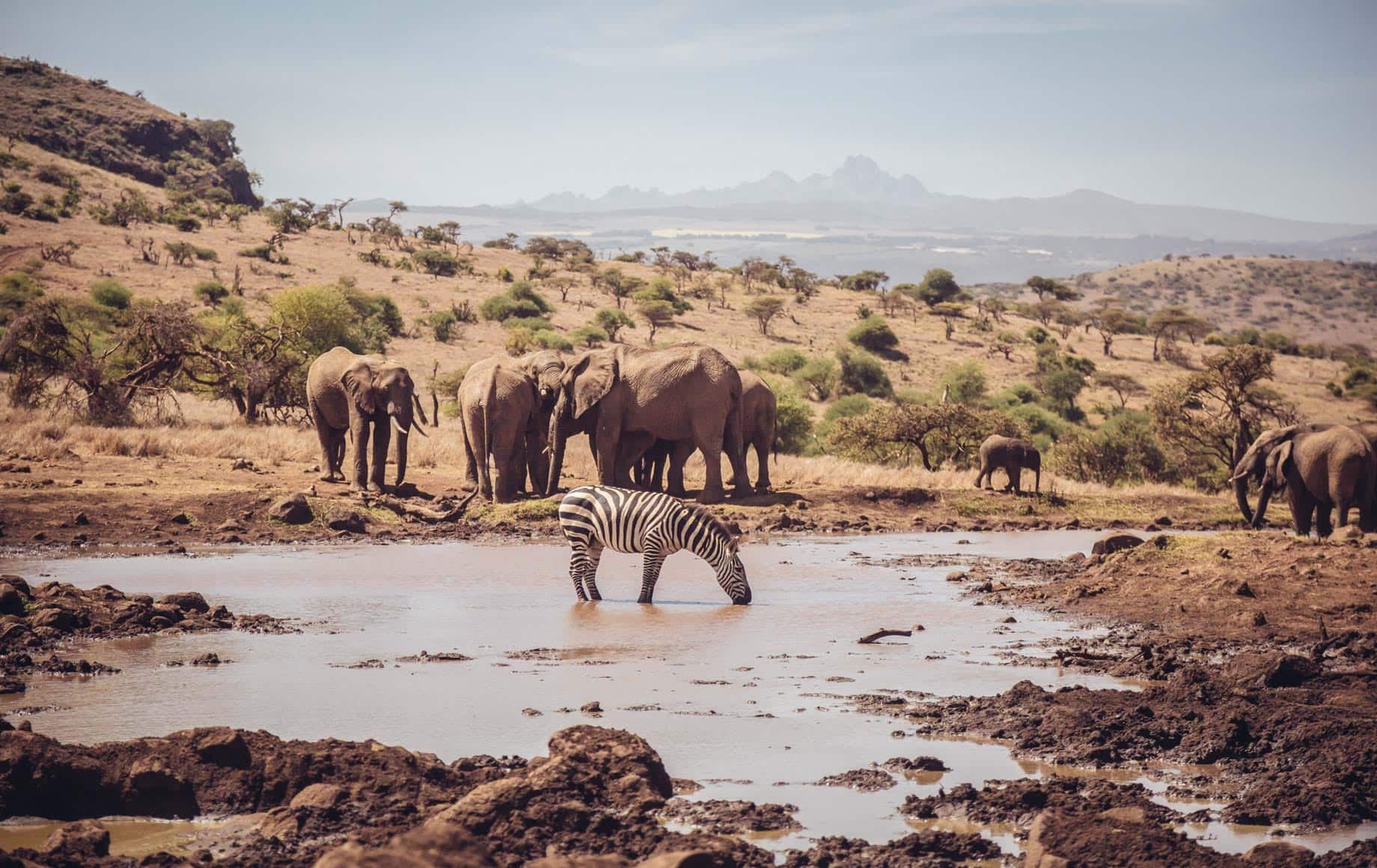 Animals, every which way you look.
At the end of the day, even a luxury African safari is all about the game. When you're planning your adventure, you'll want to ask about The Big 5. They are a spectacular sight, and not every area can claim the full dazzling complement of lion, leopard, rhinoceros, elephant and Cape buffalo. Rest assured, we know which areas do and that's why we recommend visiting more than one game reserve. For elephants, we love Amboseli National Park. For lions, lovely lions, the Mara is the business… and that's only the beginning. At Micato, we have more than 50 years of experience in maximizing our guests' exposure to game. Witnessing the great migration is also a high point: it's worth noting that the migration happens year round. In fact, in addition to watching wildebeest jumping the river, calving season is now high on our Hot List – a magical time when guests can experience the wonder of thousands of calves being born before their eyes.
Kenya is the best destination for luxury safaris and we are Kenyan safari experts. We have both a Driver/Guide and a Safari Director in all our vehicles in Kenya. All our vehicles have Wi-Fi, are well stocked with snacks and cool drinks. We limit seating to maximize views, provide guide books and beanbags to stabilize your long lenses, and keep in radio contact with other vehicles to ensure we never miss a critical sighting. In short, we do everything to make your safari memorable and magical.
What does luxury mean to us? (The short answer: your time.)
We know a big part of a luxury African safari means using your most precious commodity well. Evaluating the hours of road travel versus air travel is key in safari planning. This level of luxury has been climbing and climbing. Today, you can accomplish nearly all transfers by air, scenically and swiftly. At Micato, we use helicopters, private planes and private airstrips to move from game reserve to game reserve and camp to camp. The increasing availability of longer private airstrips means more opportunities to have pressurized aircraft take you smoothly and quickly where you want to be. And of course, all these flights give you a wonderful private perch onto the magnificence of the African continent.
Sounds Great! Where do I sign up?
Micato offers five Classic Luxury African Safaris that delve deep into Kenya's glorious game parks, but to really experience the hidden gems, contact our Safari Specialists about a luxury Custom Safari tailored to your tastes and budget.  In Micato's Kenya, the sky is the limit!