East Africa, Kenya
The Maasai Mara Game Reserves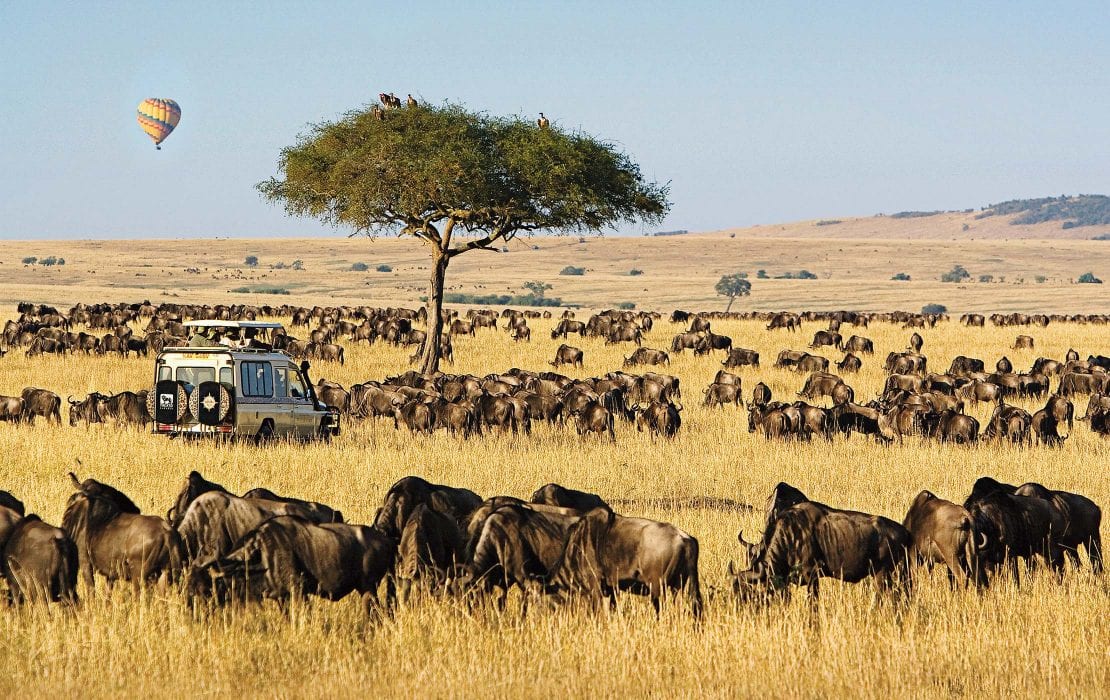 The classic Africa of our imaginations, brought to joyous life.
The Mara abounds with rolling grasslands, expressive acacia trees, sweeping vistas teeming with wildlife, and one of Africa's common but unforgettable sights: "the cumulus clouds that drift all day long across a sun-filled sky," as Elspeth Huxley wrote in The Flame Trees of Thika, "remind[ing] me of huge swirls of whipped cream." (Those sunny skies and grand landscapes inspire us to consider a hot-air balloon option while we're in the Mara.)
We make leisurely game drives throughout the Mara, stopping to contemplate the engrossing rock islands, called kopjes, that Peter Matthiessen called "magnificent, harmonious stone gardens…[revealing] the bone of Africa." We gander at the pleistocenic crocodiles and hippos who frequent the Mara River and its tributaries (seeing a big pod of hippos gambol and thrash about can be as moving and beautiful in its gloriously hefty way as a performance of Swan Lake by the Kirov Ballet, as Walt Disney showed us in the immortal Fantasia, long ago). And we'll have sundowners in the evening's gentle warmth, breathing clean and guileless air, watching Africa's showy stars come out to dazzle.
Things we love about, and love to do in the Maasai Mara
Watching miles-long trains of wildebeest and zebras in their endless migration in the Maasai-Mara-Serengeti ecosystem, Earth's largest animal homeland, and haven. 

Enjoying early morning tea on our veranda as a herd of elephants patiently waits in line for a frolicking dip in the Mara River. 

Soaking up the feeling of being in a whole landscape alert with life, and being part of it."  

Ballooning over the gorgeous Mara, feeling a magnificent and worthy intoxication-by-grandeur.

Watching lion cubs play hide and seek among grassy tussocks.

Game drives in peaceful search of the Big Five (and maybe the elusive Little Five:  rhinoceros beetles, buffalo weavers, leopard tortoises (not so mini, really; they can weigh as much as three standard bowling balls), ant lions, and extremely shy elephant shrews, which weigh not much more than an elephant's tear.   
Quad biking and horsebacking on the acacia-accented savannah.

Camel treks in the Mara's hills

(a sight you'll never forget: a stoic camel calmly chomping down on knife-sharp thorns as if the spiky bush were a crunchy treat). 

"Feeling," as Ernest Hemingway did, "the cool wind of the night and smelling the good smell of Africa I was altogether at home."
Blogs About The Maasai Mara
Luxury Safaris to The Maasai Mara
Camps & Lodges in The Maasai Mara